Joint Seminar
Dr. Aleksandar Marsavelski: Addressing Regime Crime: The Concept of Criminal Responsibility of Political Parties
Date: 5.12.2016
Organizer: Transitional Justice Working Group [TJWG], Seoul
Event venue: Seoul NPO Centre Event description: Drawing on examples from around the world, this seminar discusses how political parties can be held accountable for the actions they inspire. The presentation addresses legal models that have the potential to attribute the widespread and gross human rights violations that take place in the North Korea, to the Workers' Party of Korea, in a transitional justice context. Marsavelski, A. (2014) 'Responsibility of Political Parties for Criminal Offences: Preliminary Observations, Challenges and Controversies', in: A.-M. Getoš, H.-J. Albrecht & M. Kilchling, Mapping the Criminological Landscape of the Balkans, Duncker & Humblot, 499-525.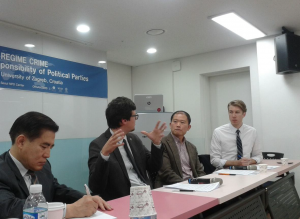 Dr. Aleksandar Marsavelski discussing Criminal Responsibility of Political Parties in Seoul